L'Attività Sportiva
Fechtevent in Wien
30 ottobre 2004 – 1 novembre 2004
October 30th 2004 – November 1st 2004
L'evento comprendeva insegnamenti di:
Codice Wallerstein (Bart Walczak);
Lotta e Daga (Marlon Höss-Bötger);
Mezza Spada (Torsten Schneyer);
Messer (Hans Heim);
Armi d'Asta (Dreynschlag);
Spada a due mani di Fiori de Liberi (Marco Rubboli);
Teoria della scherma (Jörg Bellinghausen)
Clicca qui per la pagina ufficiale dell'evento (in tedesco)

The event proposed teachings of:
Codex Wallerstein (Bart Walczak);
Wrestling and Dagger (Marlon Höss-Bötger);
Halfswording (Torsten Schneyer);
Messer (Hans Heim);
Pole Axe (Dreynschlag);
Fiori de Liberi Longsword (Marco Rubboli);
Theories of fencing (Jörg Bellinghausen)
Click here for the official page of the event (in German)
La "Sala d'Arme Achille Marozzo" è stata rappresentata da Marco, Alessandro e Paolo
"Sala d'Arme Achille Marozzo" was represented by Marco, Alessandro and Paolo
Foto di Alessandro e altre prese dalla rete
Photo by Alessandro and gotten from the net
---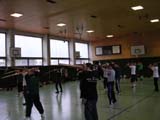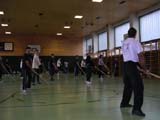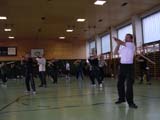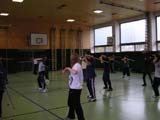 Prova delle guardie
Trying the guards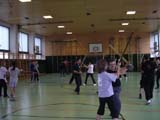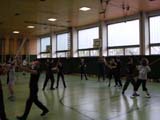 Prova delle tecniche
Trying the techniques
---
Foto di gruppo dei partecipanti all'evento
Photo of the participants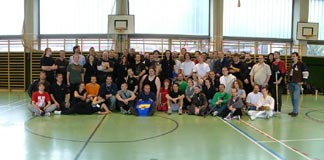 Chissà dove erano Marco, Alessandro e Paolo quando l'hanno scattata!
Nobody knows where Marco, Alessandro and Paolo were when this photo was done!
---
La serata nella taverna dell'associazione studentesca austriaca
The evening in the tavern of the student Austrian association



Quadretti rappresentanti la "mensur"
Representative paintings of the "mensur"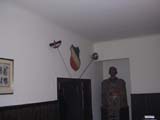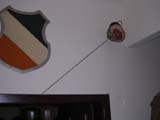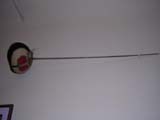 Spade per la "mensur"
Swords for the "mensur"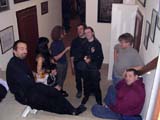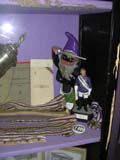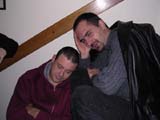 Italiani, Francesi, Austriaci e Tedeschi uniti dalla scherma e dalla birra (Paolo e Alessandro anche dal sonno)
Italians, French, Austrians and Germans united by fencing and by beer (Paolo and Alessandro also by sleep)
---
Altre foto
Other photos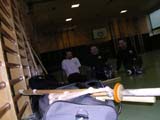 Marco, Alessandro e Paolo decidono di dimostrare la puntualità italiana e la domenica si presentano con un 20 minuti d'anticipo.
Notare la palestra vuota dietro di loro, peccato ci fosse lo scatto dell'ora legale, grandi!.
Marco, Alessandro and Paolo decide to show Italian punctuality, so Sunday they arrive in advance of 20 minutes.
Note the empty gym behind of them, but there was the legal time change, greats!.

L'orco italiano infesta le cuccette dei treni!
The Italian train ogre!